Custom Parts from Metal Matrix Composite Ceramics
Ferrotec's metal matrix composites feature take advantage of various material mixes to deliver unique material properties and performance characteristics. We offer a wide variety of metal matrix materials, grades of purity, and manufacturing capabilities needed to work with these specialized materials.
Precision fabrication
Competitive lead time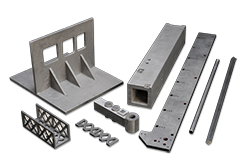 Applications
Semiconductor equipment parts
Semiconductor inspection parts
Laser equipment parts
Vacuum equipment parts
Thin film deposition equipment parts
Liner motor parts
Heat-insulating parts
FPD process equipment parts
Adhesion equipment parts
Positioning parts
Sensor parts
Analysis equipment parts
Ultrasonic generator
Electric-insulating parts
Send Your Questions, Your Drawings, or Your Parts and We Can Quote.
Do You Need More Information?
Find out more about Ferrotec's ceramic manufacturing capabilities